THE NEW ACS FLOWER® SERIES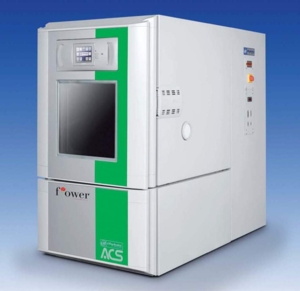 Environmental & Technical Services are pleased to inform you that the Flower® series chambers is now available to -70°C.
The new Flower® climatic chamber is the product of Angelantoni Industries research and is a truly innovative step forward in the field of climatic test chambers. Environmental protection and preservation are amongst the highest priorities for companies adhering to ISO14001 certification. In keeping the faith with sustainability policies ACS has been conducting research and development related to reducing energy consumption and the ecological footprint of their systems.
With the use of recyclable and environmentally friendly materials including packaging, paint, and insulation, the flower series is the first result of this research, a truly unique and innovative product in the field of climatic test chambers.
More information about the Flower®
Previous features about the Flower®:
The Climatic Chamber that respects the Environment, (Jun 09)
Energy saving
In most tests, at steady state conditions, the compressor turns at half the speed of conventional chambers with a proportional reduction of energy consumption.
Pollution reduction
The engineers at ACS have managed to reduce the carbon dioxide emission levels to 800 g per Kwh produced.
Volume /
Chamber
250
600
1200
Flower®
1500 W
2200 W
3300 W
Conventional
2500 W
3900 W
5400 W
Performance increase
Temperature rate [°C/min] in the range +180°C ~ -40°C measured according to IEC 60068-3-5.
The performances of the Flower® range are very similar to conventional ranges if the cold sink is not used.
Volume /
Chamber
250
600
1200
Flower®
6
8
7
Conventional
3.5
4
4
Noise reduction
The compressor and the ventilators are the main sources of noise in a climatic chamber, when the maximum cooling rate is required, the noise levels of the flower chambers are the same as the conventional one. In a steady state condition and when the speed of the compressor and ventilators go at minimum, noise levels of the compressor reduce significantly.
(This data is related to steady state conditions)
Volume /
Chamber
250
600
1200
Flower®
54
57
60
Conventional
59
64
65
Environmental impact reduction
The reduction of energy consumption means the reduction of emissions of carbon dioxide.
The thermal insulation with rock wool replaces the use of polyurethane.
All the above helps to reduce the environmental impact and to let us live in a cleaner world.