THE FLOWER® ENVIRONMENTALLY FRIENDLY CHAMBER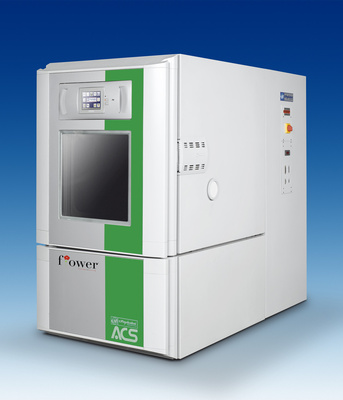 Environmental protection and preservation are among the highest priorities for Angelantoni Industrie. They have been conducting research and development related to reduce energy consumption and to use ecological and recyclable materials in order to develop products that reduce environmental damages at all stages of the product lifecycles.
The new chamber called Flower® is the first result of this research, a truly innovative product in the field of climatic test chambers.
Reduced Energy Consumption
About 50% reduction of energy consumption can be assured during the stabilization phases due to a unique and patent pending system such as:
An inverter that controls compressor speed and allows the adaptation of compressor power to different working needs
A heat sink to increase the cooling efficiency
Reduced Noise Level
20% noise reduction is obtained due to:
The inverter on the compressor which reduces the rotation speed to about 40% of its nominal value according to working conditions.
A silencer installed on the compressor which lowers noise during maximum rotation speeds.
An automatic control system that reduces condensers blower rotation speed according to ambient temperature and cooling power.
These advantages are combined with the use of environmentally friendly materials during production phases:
water based paints
no polyurethane in the insulation process
recyclable or easy disposable packing materials
Flower® 250 Technical Features
Useful volume:
224 litres
Temperature range:
-40°C to +180°C
Fluctuation:
±0.25°C...±0.3°C
Temperature rates:
5°C/min.from-40°C to+180°C
4,4°C/min. from +180°C to -40°C
Relative humidity range:
10/98% R.H.
Dewpoint temp range:
20/+94°C
Controller:
KeyKratos colour touchscreen
Included accessories:
Castors assembly
Self-feeding system (mains water through chamber embedded softener)
1 lateral porthole
1 internal shelf
Internal lighting
Air condenser
RS232 interface
Digital undertemperature/overtemperature switch
Connection to UPS
False ceiling to prevent water dripping on the specimen
Gatekeeper door electromagnetic closing system
The chamber humidification system needs normal tap water (no distilled water required).