HIRE CHAMBERS OF 1000 LITRES AND OVER CAPACITY
ETS supply a large variety of test chambers including high humidity chambers, laboratory test chambers and temperature conditioning chambers.
Below are a few of our largest chamber for hire. If you do not have the space to accommodate these chambers please contact us as we may be able to carry out your testing needs on our premises.
We also have a large stock of other hire chambers available for immediate delivery.
Just contact us and we will be happy to give you some more information.
The concept
The specimen is fixed in its position and the chamber is connected alternatively to hot and cold chambers. This technical solution, capable to perform as a standard thermal shock, not only saves mechanisms, power and size but also allows you to perform environmental stress screening tests and conventional thermal cycles.
This design eliminates the problem of having to worry about cables that may need to travel with your test items. Since the unit under test stays in place it is easy to connect any wiring or sensors necessary to verify your test results.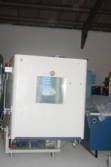 Ref: 1010
1000 Litre Temperature / Humidity Testing Chamber
| | |
| --- | --- |
| Internal dimensions: | 1000 x 1000 x 1000 mm (WxDxH) |
| External Dimensions: | 1450 x 2940 x 1980 mm (WxDxH) |
| Temperature Range: | -40°C to +140°C |
| Rate of Change: | 2°C/min |
| Port Holes: | 2 x 50mm dia. top |
| Power Supply: | 32 Amp, 3 PH+N+E |
| Humidity Range: | 10% to 98% |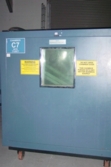 Ref: 1049
1540 Litre Temperature Test Chamber
| | |
| --- | --- |
| Internal dimensions: | 1200 x 1280 x 1000 mm (WxDxH) |
| External Dimensions: | 1840 x 2600 x 1850 mm (WxDxH) |
| Temperature Range: | -40°C to +150°C |
| Rate of Change: | 5°C/min |
| Port Holes: | 2 x 75mm dia right hand side |
| Power Supply: | 63 Amps / 3 Phase |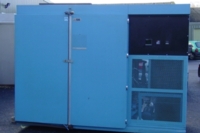 Ref: 1006
1580 Litre Temperature / Humidity Test Chamber
| | |
| --- | --- |
| Internal dimensions: | 1510 x 870 x 1200 mm (WxDxH) |
| External Dimensions: | 2850 x 1170 x 2100 mm (WxDxH) |
| Temperature Range: | -60°C to +100°C |
| Rate of Change: | 2°C/min |
| Port Holes: | 1 x 200mm & 1 x 75mm dia. left hand side |
| Power Supply: | 3 Ph + N |
| Humidity Range: | 10% to 98% |