THE ANYVIB™ RANGE OF TEST CHAMBERS
Why anyvib™?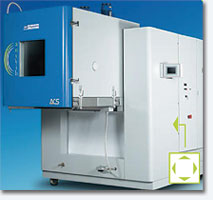 Because anyvib™ is the easiest way to combine any kind of shaker with an environmental test chamber. anyvib™ is a new family of climatic chambers that can be interfaced with many various types of shakers for vertical, horizontal and tri-axial vibrations.
Simple operation
A worm screw type of lifting system allows to adapt the test cabinet to the shaker height. The movement can be set either from the touch screen control panel on the chamber or from a remote control. It is also possible to add horizontal movement on request. This is especially valuable if your shaker allows both vertical and horizontal movement or if you want to use more shakers with the same chamber.
Great flexibility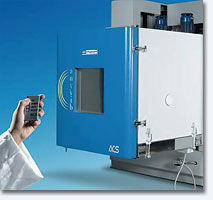 Different removable floors, for vertical and horizontal vibrations, the chamber can be adapted to any existing shaker system. If there is the need to use the chamber without the shaker in place, a plug is available to close the hole on the floor . Test cabinet movement can be set by the control panel located on the right hand side of the chamber, or the remote control handheld by the operator.
Standard models
The available volumes are 600,1200 and 2200 litres (21,42 and 78 cubic feet) temperature range is from -70°C to +180°C, humidity range Is from 10% tp 98% (in the temperature range of +5°C/+95°C) Choices of temperature change rate are available 5°C,10°C or 15°C/minute.
User friendly controls
The control system based on PLC has an easy to use colour touch screen control panel (keykratos) The winkratos software developed by ACS allows the PC control of the chamber.
Wide range of accessories
Besides the main accessories included in the basic configuration anyvib™ chambers can be equipped with several options to make them specific to the customers needs.
Included accessories:
Test cabinet automatic lifting system with remote control
Removable sliding floor for vertical shaker
Covering plug for vertical shaker hole
Inspection window: multiple glass layers with double heated transparent film, 450x450mm size
Embedded softener for humidification water (no distilled water required)
Serial interface: RS232 or RS422 for star or multidrop connection to the remote control system (max distance up to 15 and 1500 metres respectively)
Port hole 80mm dia fitted with silicone rubber cap to allow internal - external electrical mechanical or hydraulic connections
Safety thermostat max/min digital thermostat with independent probe, this can also be used to disconnect the supply of the device under test
UPS connection this is used for the supply of the microprocessor unit in order to guarantee data storage and acquisition even in he case of power failure ( the UPS is an optional accessory)
Colour touch screen control panel
For further information about the range of additional accesorries available for the anyvib™ please contact Sharon Leake for further details.