CLIMATIC AND THERMOSTATIC CHAMBERS WITHOUT BOUNDARIES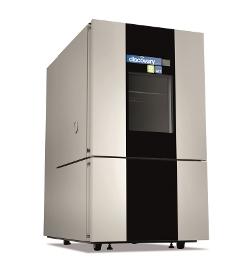 Discover Discovery
Angelantoni Test Technologies is proud to announce their newest and most innovative chamber series yet - DISCOVERY MY.
Discover the brilliant and innovative design of Discovery My chambers featuring a new cutting-edge control system, based on the new MYKratos S/W, which makes possible to manage and monitor the chamber from the mobile and desktop devices using Wi-Fi, Ethernet or GPRS/UTMS connections.
The line of chambers comes in both thermostatic (temperature only) and climatic (temperature and humidity) versions.
Discovery is everywhere
Cutting-edge control software allowing you to manage, monitor and assist the chamber in any place at anytime in multiply ways (WIFI, Ethernet, UMTS).
Discovery is safety
Maximum safety of tests, thanks to door opening by personal codes and settable temperature limits.
Discovery is everything
Full range of performance matching all the requirements from stability tests to the most severe stress screening applications.
Discovery is versatile
Specific tests outfits for the following applications. Battery testing fast cooling by LN2, solar simulation test, air conditioning unit.
Discovery is eco-friendly
Thanks to Flower version, Discovery also works for the environment low energy consumption for a sustainable future.