SECOND USER VÖTSCH THERMAL SHOCK CHAMBER FOR SALE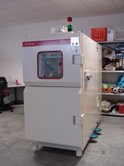 Thermal Stress chambers are a special type of thermal cycling chamber designed to subject products to mechanical stress by applying very fast temperature changes to the product. This stress causes any under-lying weaknesses to fail allowing poor quality products to be screened out before being shipped to the end customer.
ETS are able to offer for sale a second user VÖTSCH Thermal Shock chamber, a specialist floor standing chamber designed for Thermal Shock testing using one hot one cold and a basket to move the products between.
Manufactured to meet
MIL STD 883E Method 1010.7 (A, B, C, D, F)
MIL STD 810E Method 503
MIL STD 202F Method 107 G
IEC 60068-2-14 Test Na
BS2011
DIN 40046 Test Na
JESD22 - A101-A
Vötsch VT 7012 S Year of Manufacture 1999 (manual provided)
Internal dimensions (test Space) 125 ltd (WxHxD)
470 x 410 x 650mm
External dimensions max (WxHxD)
970 x 2450(with ram) x 2350mm
Operating temperature range
Hot Zone
Cold Zone
+50°C to +220°C
-80°C to +70°C
Load Capacity
50kg
Rated voltage
400V AC 3-phase (3/N/PE) 50Hz
Rated maximum current
25 amps/ph
Cooling
Water supply for cooling plant
Integral, cascade water cooled compressor. Water Inlet pressure of 6 bar, differential pressure >=2.5 bar.
Total Chamber weight
1000kg
Airflow
Ducted forced air
For information on other second user thermal shock chambers available please contact Trevor Leake.