THE RT1000 RAIN TEST CHAMBER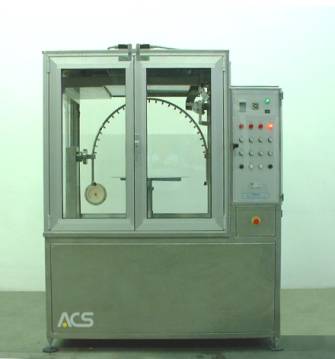 During their life industrial products are exposed to several atmospherical agents in addition to the well known temperature, humidity and corrosion.
Very high degradation phenomena are caused by sand, dust, rain and sun light. In order to comply with market needs ACS design and produce a large number of equipment suitable for carrying out tests which comply with all the main international standards.
Our equipment for sand and dust tests are able to reproduce all the conditions included in the standards requiring continuos ventilation (DIN 40046, MIL-STD 331 AND MIL-STD 810 C), dust drop tests (DIN 40052) and tests with irregular whiff of compressed air (SAE J 575).
ACS equipment for sun light tests are according to MIL-STD 810 D while our chambers for rain tests are manufactured according to DIN specifications.
ACS equipment can be tailored to suit specific customer requirements.
0RAX0010 water recirculation system (80 l tank)
Includes:
Stainless steel tank, 80 l capacity, positioned in the inferior part of the structure, complete with min/max level probes
Electric-pump 20 with a l/min capacity at 200 kPa
0RAX0010 system for testing according to IPX1 & IPX2 protection classes (demineralized water to be provided by the customer)
Includes:
Stainless steel basin with Nylon dropping nozzles with mm 0,4 hole dia. (basin useful dimensions mm 600x600 complete with cover)
System to maintain the water fall level. Water rates: - degree IPX1 = 1 +0.5 mm / min. - degree IPX2 = 3 +0.5 mm / min.
Drain tank under the basin with external manual operation
Basin filled by distilled water
mm 600x600 stainless steel support for specimen, 15° tilt angle, to be fixed on the rotating plate (IPX2)
Water inlet system includes:

flow rate control tap, complete with ½" filter
electric valve to activate water filling
electric valve to select test level
N.B. IPX1 and IPX2 test cycle with demineralised net water
0RAX0010 system for testing according to IPX4 protection class
Version for degree 4K test cycle with recirculating water, including:
Series of interchangeable nozzles with mm 0,8 dia. hole
Automatic table rotation speed: 4 turns / min.
Flowmeter with max 6 lit / min. rate
Electric pump for test cycle degree 5 liters with rate of 30 l/ min at 400 kPa
0RAX0010 system for testing according to IPX5 & IPX6 protection classes
Includes:
1500 l vertical tank complete with support base, min/max level probes, safety probes, ¾" - 24 V electric valve
Inlet electric pump for nozzle feeding, rate of 130 l/min. at 2 Bar
Water inlet system provided with modulating valve for flow interception and regulation
Normalized interchangeable nozzle with 6,3 mm dia. hole (IPX5)
Normalized interchangeable nozzle with 12,5 mm dia. hole (IPX6)
Stainless steel tripod easel, with vertical regulation, to sustain nozzles
20-120 l/min flowmeter, ± 3% precision (IPX6)
20-21 l/min flowmeter, ± 3% precision (IPX5)
Support base for tank and pump equipped with antivibration feet
Electric control box fixed to the tank, including:

Main power switch
Programmable timer
Warning lamps and light switches
Voltage: 400 V +6%/-10%/50Hz/3ph + N + G
Power: KW 1.5
Dimensions: mm 1600x1200x2100 (WxDxH)
0RAX0010 system for testing according to IPX7 protection class
Includes:
Stainless steel tank complete with filling and emptying valves, dimensions: mm 600x600x1180 (WxDxH)
Stainless steel column to be fixed to the tank, complete with manual winch with rope for specimen basket movement
Basket with stainless steel base (perforated sheet) mm 500x500
0RAX0010 system for testing according to IPX8 protection class
Includes:
Hot galvanized iron tank, mm 350x1000 (ØxH), 100 l capacity
Cover closing system with screw clamps
Rubber gasket
Drain cock
Air inlet complete with pressure regulator and manometer
Safety valve calibrated at 8 Bar
Max operated pressure: 8 Bar
0RAX0010 system for testing according to IPX9K protection class
Includes:
Support column for spraying nozzle with longitudinal and vertical regulation, equipped with 4 fixed positions for 0° - 30° - 60° - 90° spraying angles (convergent to the centre)
Flat spray nozzle with a cone of 30° ± 5°
Max specimen dimensions: mm 300x300x300 (WxDxH)
External unit with heating group ad high pressure pumps:

Aluminium structure to support the unit, equipped with castors
Stainless steel 70 l sealed tank complete with immersion heaters (kW 1.5), load electric valve, min/max level safety probe
Water temperature probe
Test temperature: 80°C (±5°C)
Recirculation electric pump to avoid temperature bedding
Piston electric pump, 16 l/min rate, max operating pressure 120 Bar, complete with pressure regulator
Manometre dia. mm 150 - f.s. 160 Bar
High pressure connection pipe

Electronic Control Panel:

Main power switch
Temperature programmer and display
Microprocessor to set spraying time and test cycle time
ON/OFF switch for rotating table
COLD and HOT cycle switch
Signal lamp for TANK ON
Signal lamp fo HOT CICLE ON
Signal lamp for PUMPS ON
Start button
Emergency stopbutton
Voltage: 400 V +6%/-10%/50Hz/3ph + N + G