ACS THERMAL SHOCK CHAMBERS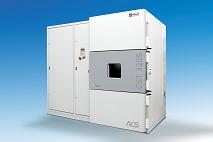 Available in several versions to better suit different testing needs, they may be broadly divided into: air-to- air thermal shock chambers (CST series), liquid-to-liquid thermal shock chambers (CSTL series), horizontal or vertical chambers with 2 or 3 compartments corresponding to 2 or 3 different temperature levels (hot, ambient temperature, cold). The capacity of these chambers ranges from 27 to 1000 litres.
The µPLC-based control system consists of a user's interface with keyboard and display and allows pre-defined test cycles to be automatically run.
Features
Use of ecological refrigerants such as R404a R23
Basket transfer time from one compartment to another less than 10 seconds
Fast recovery and stabilization times during hot-cold and cold-hot transfers, thanks to low thermal inertia and to the absence of radiating heat inside the chamber
High response speed and linearity in the -100°C/+200°C range, thanks to a powerful thermoregulation system
Doors equipped with a special automatic system stopping the running test at door opening
Recirculation system ensuring a perfect air distribution inside the chamber
Low liquid consumption on CSTL models (0.5 g/h for CSTL20)
Use of one liquid only (CSTL30)
The new CST-130 S model: The Flapper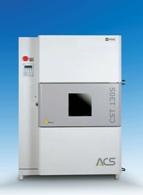 CST 130 S is the new concept of thermal shock which can dramatically improve the space crowded situation of many testing laboratory. The specimen is fixed in its position and the chamber is connected alternatively to hot and cold chambers, this technical solution, capable to perform as a standard thermal shock, not only save mechanisms, power and size, but also give the possibility to perform ESS tests and conventional thermal cycles.
Contact Sharon Leake for further details.