CUSTOMISED WALK-IN CHAMBERS
Walk-In chambers have been developed for special applications, when the need of performing climatic tests on complex, sometimes huge equipment (cars, refrigerators, computers, and telecommunication systems) arises. Walk In chambers are usually tailored to suit the specific customer's requirements with the help of the versatility and high-technology levels achieved by ACS in the field of environmental testing.
Walk In chambers can be divided according to the four different climatic systems used, those temperatures range from -70°C to + 120°C (R.H. range: 10%-98%)
Air-evaporator system for low performance chambers operating at fixed climatic parameters
Reach-In systems with external air treatment for standard climatic cycles
System with internal air treatment for high performances (fast cycles)
ACS - patented indirect system used for explosion-proof high precision tests for humidity control in the presence of high dissipation
Features
Sandwich panels with interior in AIS304 stainless steel and insulation obtained by means of ecological materials
Different door versions available: side hung, sliding,swinging, motor driven
Pressure regulation by means of digital vacuum-meter
Self draining floor (ACS patented) for the automatic drain of condensation
µPLC-based control and management system with users interface ( to be chosen between keyboard and display or PC and dedicated software)
High flexibility in the supply of special accessories upon customer request
Air flow optimization system by means of fluido-dynamic devices aimed at making the climatic conditions inside the test compartment uniform
Walk-in chamber for telecommunications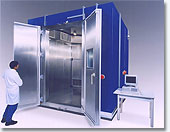 Features & benefits:
It can simulate the environmental conditions, including high low humidity, to which is subjected a radio base station dissipating 5KW.
The cooling is performed through a single phase indirect system.
Capacitive and pt100 probes are used for the measurements in the test chamber, allowing an extremely precise control of the programmed values.
Rolling bech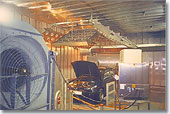 Features & benefits:
The system is used to check efficiency and performance of the complete car under climatic stress during the typical cycles defined by automotive norms.
The tests require to run the engine and to interface the wheels with road simulator systems (rolling benches) in order to drive the vehicle at various speeds.
RefurbishmentAn air pressure regulation system provides the pressure balance of the exhausted gas in order to ensure a correct working of the car engine.
To check the vehicle emissions a hydrocarbon system is installed.
Walk-in chamber for accelerated corrosion test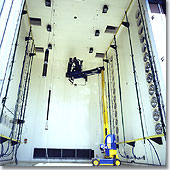 Features & benefits:
It has been specially designed and manufactured for the Electricité De France.
It is a very large chamber, 700 m³, for accelerated testing of external High Voltage Insulators (300 KV).
The system includes temperature, humidity, salt fog, rain and solar simulation.