WALK-IN CLIMATIC CHAMBERS WITH IR SYSTEM AVAILABLE NOW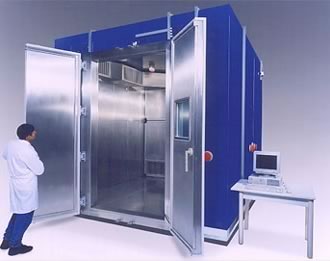 Environmental main features
Temperature control range
-40°C/+150°C
Temperature accuracy (in time)
±1°C at steady state
Temperature variation rate (average values with 100kg steel test load)
2°C/min heating up from -40°C to +20°C
1.7°C/min cooling down from +20°C to -40°C
Humidity range
from 10% to 98% R.H.
Humidity accuracy (in time)
±3%....±5% at steady state (and anyway not less than ±1°C on the dew point difference)
Dewpoint temperature range
+5°C/+84°C
Notes
1. The reference sensor is installed on blow-out of air conditioning unit.
2. The temperature rate is according to IEC60068-3-5 specification
Dimensional main features
Internal useful capacity
15m³ approx.
Internal useful dimensions
2000 x 3000 x 2500mm (W x D x H)
Chamber external dimensions
2300 x 4150 x 2800mm (W x D x H)
Machine unit dimensions
2000 x 1200 x 2100mm (W x D x H)
Constructive main features
Construction
Vapor tight prefabricated panels, AISI 304 corrosion resistant stainless steel interior, internal welded stainless steel, light blue plastic coated zinc or steel exterior. Thickness: 150 mm. The possible unevenness of the surface planarity due to the welding doesn't decrease the reliability level, in fact the welding of the walk-in chambers internal coating is absolutely the best warranty for its sealing.
Thermal insulation
High density polyurethane foam injection (42 Kg/m³.) and rock-wool
Chamber floor construction
Reinforced stainless steel 15/10
Floor loading capacity
30,000 N/m²
Draining
A draining system is provided in order to evacuate the condensation water that can be formed particularly during the transition phase (due in particular to the thermal inertia of the chamber metallic parts). This allows avoiding damages to the prefabricated panels due to possible water infiltration and relative frost formation during the cold phases.
Door
Tight and double wing type door, double seal hinges and locks. The door can be opened also by the interior, for safety reasons. Door frame heating system will be provided.
Door dimensions
1500 x 1900mm (WxH), which allow a half size car to go in
Observation windows
No 1 window will be provided, mm 450 x 450H, complete with an electric heating element on the surface of the glass able to prevent the formation of condensate. The windows will be placed on the door.
Internal light
Light by 2 x 60 W lamp. The lamps can be switched from outside.
Air treatment system
Realized into an air treatment duct positioned on the end wall of the chamber. It has inside the following elements:
Cooling evaporator
Heating system
Thermo-regulated air re-circulation fans
Dehumidification coil
Humidification steam inlet duct
Electronic humidity sensor and PT100 thermal probe
The thermo-regulated air flows into the air treatment duct, passing through the above mentioned elements before to enter into the test chamber.
Cooling
Performed by mechanical cooling based on cascade stage system. The cooling system is realized with two semi-hermetic alternative type compressors by an advanced and high quality design. Main body in special cast iron, easy dismountable cylinders and light metal alloy pistons. Water (+29±3°C) condenser. The cooling system is complete with an Automatic Protection of the Compressor by Injection System that protects the compressors during the cooling down from high temperatures. Such system allows a self-regulating cooling of the compressors, in order to avoid temperature exceeding +30°C (no damages to motor winding).
Protection of compressors
The compressors are protected against:
overheating
over/under pressure
overloading
Refrigerant
Environmental friendly type (Non-CFC), R404A and R23 are used that have not been prohibited by the Montreal convention or considered harmful under the London amendment.
Heating
By electrical heaters, protected by double adjustable fail-safe thermostats that disconnect a magneto-thermal switch with current-launch coil.
Humidification
Low pressure steam generator heated with armored electrical heaters, complete with pressure switch and safety valve.
Dehumidification
By means of smooth tube coil connected to the cooling unit.
Humidity control
Electronic humidity sensor is used for the measures in the test chamber. This allows the set and measurement of relative humidity expressed directly in % R.H. The regulation of the humidity is performed by the microprocessor programmer. This allows extremely precise control of the programmed values.
Internal ventilation
Forced air re-circulation realized with high power centrifugal fans in order to achieve good temperature uniformity. Fans inside the chamber are extremely sturdy, low noise and able to provide continuous and intensive air circulation and equal air distribution even under high temperature and humidity operational conditions.
Power board
Complete with door locking, remote control switches, fuses, magneto-thermal switches, motor thermal protections etc... Positioned inside the building.
Machine group positioning
In a frame placed behind of the chamber, inside the building.
Chamber weight
2800kg approx.
Noise of machine unit
78 dB (A) measured at 1 m from the front of the chamber in a non reverberating ambient.
Estimated power
50 kW max, 35 kW average.
Voltage
380/50/3 + N + G (auxiliary controls with 24 VAC for operator's safety)
Control sytem
PLC control system
The control system based on PLC is easy to use by means of keyboard and LCD. The PLC is the perfect solution to the extremely speed processes or to automation tasks which require data elaboration.
The system guarantees:
High elaborating performances, huge instructions range
Integrated functions, password software protection
Very fast instructions elaboration and extremely short cycle time
Multipurpose CPU
The system can be configured with:
512 Kb RAM
Up to 1024 digital inputs and outputs
Up to 128 analogic inputs and outputs
Integrated hardware timer
RS232 serial port
PC programming and controlling system
New Software WINKRATOS package for P.C. (P.C. not included) is the new generation control and management system running in Windows 2000/NT environment. Powerful and flexible, it offers many innovative features.
Main features:
colour printing on any Windows 2000/NT compatible printer
multiple access password levels
Graphic functions:
fully-configurable layout of acquired measures charts
display of several charts on the monitor
several colours to be chosen at one's choice for the display of different
parameters curves
enable/disable of chart display and grids
real-time update of acquired measures charts
Acquisition functions:
real-time measurement of test parameters by means of graphic cursors
max flexibility for cycles to be set
storage of occurred events such as alarms, commands, etc
Performance:
ramps or dwells for each test program
store of environmental tests on diskette
display of environmental tests
monitoring of programmed tests
print out set and effective values
preset alarm conditions
PC main features:
CPU: Intel P4-2.0 or above
RAM: 256 MB or above
Graphic card
HDD: 60 GB or above
CD-ROM Driver and USB Driver included
17 inch TFT Monitor
Standard printer
IR lamps system features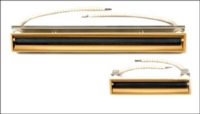 This system allows carrying on irradiance tests by means of IR lamps.
IR spot frame
Made of stainless steel and complete with anti-dropping system
IR spot dimensions
1100 x 1800mm (W x D)
IR lamps
28 Siccatherm lamps by OSRAM having 375 W/each, AC 200/220V, or equivalents
32 Siccatherm lamps by OSRAM having 250 W/each, AC 200/220V, or equivalents
IR lamps features
Radiation in the infrared range, up to 3000 nm (high infrared). The radiation is produced by a special incandescent spiral hardened at high temperature and placed in a hard-glass mushroom shaped provided with reflector. The chamber useful height will be reduced by approx mm 250.
Lighting
OFF, ON splitting into 4 blocks (4 zones) by auxiliary contacts.
Lamps layout
10 rows 6 tiers at 180mm pitches
Included accessories
One window on the door (mm 450 x 450H)
Two cable ports (Ø mm 80)
Water purifier for humidification water (tap water can be used for humidification)
Instruction and Maintenance Manual