SECOND USER RAIN TEST CHAMBER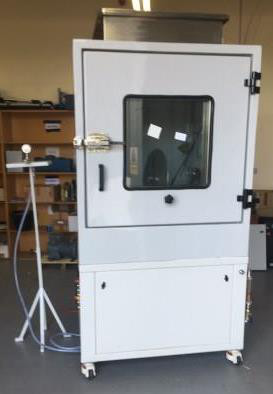 2014 Aqua Rain Test Chamber for sale
Please contact david.kinchin@ets.co.uk or
call him on 01992 899440.
Non-corrosive Fiber Reinforced Plastic exteriors, and non-corrosive Fiber Reinforced Plastic / SS interiors
Water reservoir (100 L) with feature of automatic water refilling
Effective re-circulation of water for continuous tests
Rain nozzle arms and rotating spray for JIS specification
Ability to perform distinct tests as per standards
Equipped with rotating test table that allows spray from all sides
Flow meters and pressure regulating device for control of sprays
Aqua Rain Chambers are specially designed for simulating actual and accelerated rain conditions as per International test speicifcations.( IPX1, IPX2, IPX3, IPX4, IPX5 + IEC 60529)
The Aqua Series of Rain or Water Spray Chambers is an outcome of the continual improvement of CM Envirosystems over twenty-five years in meeting the expectations of variety of requirements of various customers.
Developed with best engineering practices enhancing the inherent reliability in the system Aqua - Rain Chambers are uniquely designed to perform various tests of IEC, IP etc. Various proprietary standards also can be combined with our chambers
Aqua Series - Rain Chambers are available in different ranges of parameters and capacities as per specific testing requirements and all standard sizes are available in stock to meet the just-in-time testing needs of various industries.
A mono-block construction completely made of non-magnetic stainless steel of high grade. Lockable double jacketed front door with viewing window / transparent acrylic inner door with gasket for leak tight sealing.
The chamber is capable of moving easily to different locations using castor wheels. modular design with mono-block construction.
Spray nozzle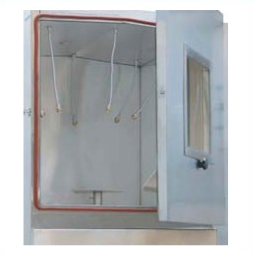 A nozzle shaft is fixed at an angle of 45 degree at the top centre of the panel. It contains one rain simulation arm and one spray nozzle arm. The arms are made of SS. They are at right angles to each other and are connected to nozzle shaft, which in turn is connected to a motor. The arms can be made to rotate at a variable speed of 5 to 30 RPM. Suitable glands are provided in the nozzle shaft for connection to the water line. Each nozzle will have hand operated shut-off valves.
Test table
The motorized test table will be located at the centre of the cabinet with variable rotation provision facilitating the direction of the water spray on all sides of the test specimen.
Spray nozzle as per IS standard
Four Nozzles as per IS standard are fixed at an angle of 45 degree at the top four corners of the test space and four nozzles at the centre of each four sides. The nozzles are provided with a manually operated shut valve. During the operation of all nozzles the combined flow rate will be 450 L/hr at static pressure of 200 kPa.
Water circulation system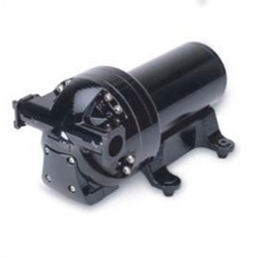 Water is circulated in a closed loop arrangement. The water is stored in a tank with an inlet connected to regular water line and a float valve to maintain the level of water. A suitable water pump with a discharge pressure of 1-3 Kg per sq. cm and flow rate of about 25- 40 liters/ minute will pump water into the centrally located cylinder. A pressure control valve with a pressure indicator, flow meter and suitable bypass system will be provided. The tank will have a drain valve.
Water Spray as per IEC standard
To verify the protection against vertical falling drops of water, a tank with level control shall be provided with water filling facility as per Numeral 1& 2.
A spray shower with a flow of 10 l/min will be provided with a flexible hose, which can be directed towards the specimen as per Numeral 3&4.