AIRBAG TEST CHAMBERS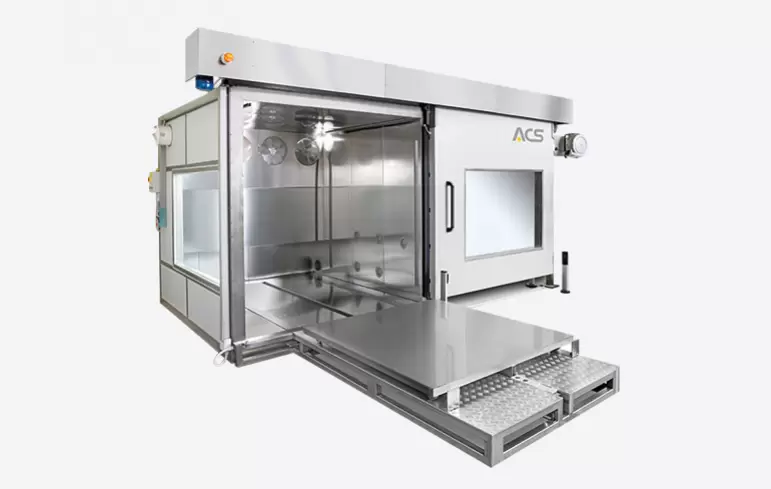 ACS chambers for testing airbag systems are designed to perform the standard tests required by the main regulations. Using high speed cameras, it is possible to record every moment of the airbag activation. The chamber can be provided with a high-speed door opening and closing system for rapid deployment of the test specimen on a dedicated frame. Alternatively, multiple windows can be installed on one side of the camera and high-speed cameras can be installed right in front of them. Temperature and humidity parameters are set inside the chamber to achieve the desired conditions.
ACS is able to offer customized solutions thanks to its more than 60 years of experience in designing customized environmental simulation chambers, its technical know-how and the close attention given to the requests of all our customers.
Example of a chamber built according to customer specifications:
Internal Dimensions: 2000x2000x2000 mm (LxDxH)
External Dimensions: 2300x4700x2550 mm (LxDxH)
Working capacity: 8000 l
Temperature range: -40°C / +95°C
Rate of temperature change:

3°C/min from -40°C to +95°C
3°C/min from +95°C to -40°C
The chamber is provided with:
Door with automatic opening, horizontal sliding and pneumatic safety system with opening time: 10 sec.
Automatic airbag activation system, with horizontal internal/external chamber movement in 7 sec.
Software
The software for this type of chamber is an application that includes all the functions based on the specifications requested by the customer. The chamber has a built-in control panel for controlling and managing its functions. The chamber can also be controlled remotely using the WinKratos® software or an equivalent application.
Range
ACS can provide customized solutions that are adapted to the requests of every customer. Thanks to its accurate analysis of testing needs and highly specialized technical consultancy, ACS designs and manufactures environmental simulation chambers in the configuration most suitable for meeting the customer's testing needs.