AUTOMOTIVE TESTING EXPO 2013 EUROPE, STUTTGART, 4-6 JUNE 2013

Angelantoni Test Technologies will attend this exhibition to show its broad range of test solutions for the automotive sector, thanks to the three leading brands belonging to ATT:
ACS for environmental test chambers
TIRA for vibration systems
BIA for bench test and crash test systems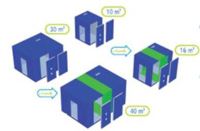 ACS will introduce this year the new features of WAZZLE walk in climatic chambers, showing a miniature walk-in chamber that will highlight the new standardization criteria and the use of modular basic elements.
These criteria, besides making easier to assemble, disassemble, relocate and rebuild walk-in chambers, allow customers to gradually invest in larger testing equipment: thanks to the improved modularity it is possible to move from 10 to 16 m3, or from 30 to 40 m3 chambers only by 4 additional panels.

WAZZLE chambers can also be equipped with MyAngel24™ our remote tele assistance system: the chambers stay connected to the remote server 24 hours a day monitoring running conditions and any anomalies, in order to guarantee faster and more efficient service and maintenance activities. They are accessible whenever and wherever you are, from any device with an Internet connection and a simple web browser (click here for more info).
The ATT booth (Stand No. 1320), measuring 156 m², will have high tech features this year, thanks to audiovisual totems dedicated to video conference, No. 2 65" monitors that will live broadcast BIA test benches located at Conflans in France and 12 suspended screens that will display logos and animations.