CONDITIONERS FOR SHELTERS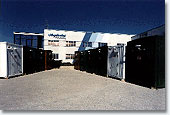 The Shelters are the ideal solution for the creation of laboratories for the monitoring of environmental conditions and for the installation of radio stations for mobile phones. They actually allow system mobility and safety as well as the thermal regulation of the working environment.
Angelantoni conditioned shelters are normally manufactured in two basic models:
Monolithic shelters
For on-the-spot installations
Prefabricated shelters
For the creation of modular structures allowing easy transport into pallets, high performances in restricted spaces and rapid assembly


Thanks to the presence of air conditioning systems, often complete with dust or NBC filters, and to the good thermal insulation provided by the material walls are made of, ACS shelters offer comfortable working conditions for the technicians and ideal conditions for the functioning of electronic devices by reducing their ageing rate.
Features and configurations
Steel-sheet external structure soldered so as to produce chimney-like air convection which helps reduce the overheating caused by solar radiation.
Internal structure made of polyurethane panels sandwiched between two aluminum sheets.
Various types of coating to face all the possible requirements of integration in the environment.
Air conditioning to be chosen among a wide range of systems.
Modern-concept electrical system in compliance with CEI 23 and CEI 24 standards. Inverters, batteries, signaling systems, emergency systems, racks, computer lines, laboratory equipment, generators can be also supplied upon customer request.
Wide range of accessories:

pioneer kit
first aid kit
step-ladder for roof access
fire-fighting kit
various structures for the internal fixing of devices
bending tables
etc...