WAZZLE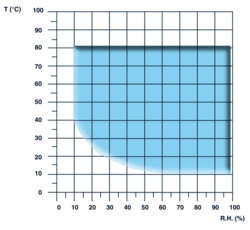 Without compromising our high standards of quality and reliability, we wanted to reduce delivery times to 12 weeks or less and avoid the costs of design and engineering normally associated with customizes walk-in chambers.
The solution is the WAZZLE a cost-effective, modular design comprising the four basic elements of a walk-in-chamber that can be mixed and matched to provide a configuration to suit the majority of requirements:
Plant unit
Air handling system
User interface
Vessel construction
The wazzle line includes 4 models according to their useful capacity:
Compact (10 m³)
Medium (16 m³)
Large (30 m³)
Extra Large (40 m³)
Each of these models are available in 6 versions according to cooling unit dimensions, except for the compact model which is available only in 4 versions (see the datasheet for detailed technical features of cooling units and performances)
Plant unit

Comprising of the refrigeration equipment and humidification systems required for the control of the temperature and air humidity inside the walk- in chamber. The basic version requires either mains water or tower for cooling.
Air handling system
Powerful fans draw the chamber air across the heat exchangers for cooling and dehumidification, heaters and control sensors before recirculating and conditioned air back into the chamber. A Pt100 sensor (temperature) and a capacitive probe (humidity) is used for control.
User interface

The control system interface is placed near the door for all the versions of the walk-in chamber. It comprises of:
Emergency STOP push button
Touch panel programmer/controller
Serial interface RS 232/422
Software + personal computer (optional)
Vessel construction

Vapour tight prefabricated panels suitable for multiple assembly and take down operations, AISI 304 interior, blue plastic coated zincor steel exterior. Insulation thickness: 120mm
Advantages
Reduction in the lead-time for chamber production
Improved cost- effectiveness of the equipment
The facility to use the same combination of the plant unit and air handling system on walk-in chambers which have:

Different geometry
Different temperature rates
Different minimum and maximum temperature limits
Different thermal load

Easy to assemble on site
Easy to disassemble, relocate and rebuild the equipment if necessary
Possibility to upgrade or refurbish existing facilities by using the plant unit/air handling system/user interface without requiring major reconstruction work.