THE ACS 2000 L TEMPERATURE & HUMIDITY TEST CHAMBER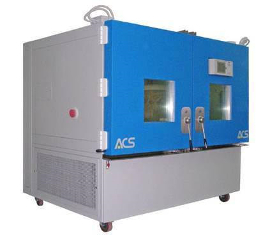 Case history from SEAT Spain, which features an ACS 2000 l chamber for temperature and humidity tests on car dashboards.
Useful capacity: 2000 l
Temperature range: -70°C +180°C
Temperature Rate of Change (measured at the control probe):
heating = 2°K/min. from -70&C to +180°C
cooling = 1.5°K/min. from +180°C to -70°C
The world's climates in one chamber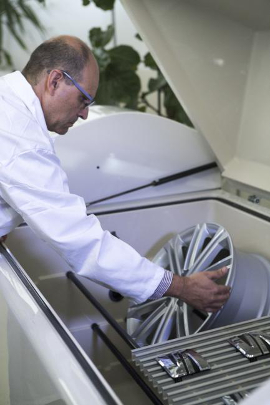 In the automotive industry, materials are subjected to extreme weather tests to confirm their quality and durability The pieces are tested between -40°C and +110°C and can be up to four months in a chamber where solar radiation is simulated.
Martorell, 02/14/2017 - "From the Kalahari desert to the cold of Lapland. In this room we reproduce all the climates of the world, " says a technician dressed in white coat as he inserts the dashboard of a car into a camera.
In the Quality department of the car company SEAT the parts of the vehicles are subjected to temperatures ranging from -40°C to +110°C to "confirm that the materials do not deteriorate neither with the cold nor with the heat", comments Rafael Bolivar, the engineer who is conducting the test.
And what happens if the car is in a coastal area? In the adjacent room, salinity and humidity conditions similar to those of sea areas are recreated to "ensure that if the car is for a prolonged period in the open, near the sea, its parts do not suffer corrosion," adds Rafael.
"If the customer lives in Mexico and the car is exposed day after day in the southern sun, we have to ensure that the colour of the car does not degrade," he says. To do this, the pieces are subjected to the test of Xenotest: an installation in which is simulated the sunlight and its effects. According to the position they occupy in the car, "the pieces are here between a week and four months," says Rafael as he inserts the sample of a pilot into the camera. A total of 120 days in which it is verified that the material does not undergo premature aging.
In addition to the simulations, this car company also sends cars to remote places with polar climates or desert areas of the planet. The vehicles remain there in the open, between one and two years to ensure that, in any weather condition, no car parts will deteriorate. All because SEAT exports to 75 countries and "the sun of Mexico is not the same as that of northern European countries like Germany or Sweden, but the behavior of the cars has to be the same in any circumstance. Be where you are." says Rafael.