ACS DRIVE-IN CHAMBERS PART 1: VEHICLE EMISSION TESTING
ACS experience in drive-in rolling bench chambers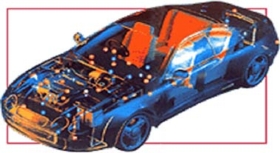 In the pursuit of quality and reliability ACS has been working with the automotive industry for over 30 years.
Their extensive client list below bears witness to that
FERRARI (ITALY)
FIAT (ITALY-ARGENTINA-POLAND)
VOLKSWAGEN (GERMANY-CHINA-MEXICO)
TRW (UK)
VOLVO (SWEDEN)
MAGNETI MARELLI (ITALY-BRASIL-CHINA)
IDIADA (SPAIN)
MARUTI (INDIA)
RENAULT (FRANCE)
ALFA ROMEO (ITALY)
DENSO (ITALY)
MAGNA (AUSTRIA)
PORSCHE (GERMANY)
NISSAN (UK)
AUDI (GERMANY)
BMW (GERMANY)
DELPHI (GERMANY)
KIA (SOUTH KOREA)
IRAN KHODRO (IRAN)
TOFAS (TURKEY)
PSA (FRANCE)
SEAT (SPAIN)
MERCEDES (GERMANY)
DALIAN DIESEL (CHINA)
Main design problems in the automotive field
Time to market is a must for success of new car models.
Quality reliability safety and environment friendly components are key points for modern vehicles, the check of those items is necessary to ensure warm welcome into the market.
In order to improve the efficiency of the project phase, improvements of testing devices are requested to perform tests combining several types of stress simulating the real vehicle working.
The standardization of test methods is necessary to compare different test results, so strict cooperation between users and producers of test equipment helps to reach that goal through the experience of each side.
Purpose of the test
Fluid dynamic efficiency of the vehicle
Emission test
HVAC efficiency performance test
Test features
| | |
| --- | --- |
| Temperature range | -40°C to +60°C |
| Standards to meet | EURO 3 / 4 STD |
| Humidity range | 15 to 80% RH |
| Max dissipation at -10°C | 160 kW (car running) |
| Max wind simulation speed | 180 km/h |
Cooling systems
Freon direct expansion
Key points

Quick achievement of the set point
Low energy consumption
Higher MTBF

Weak points

Defrosting after the test is required
Slightly higher noise
Indirect system
Key points

Defrosting is not required
Good accuracy

Weak points

Continuous maintenance is required
High consumption
Low performance
Compressors
Piston type
Key points

Chamber can work even if one of the compressors is out
Reasonable noise
Possibility to work in cascade configuration to increase the temperature rates of the chamber

Weak points

Continuous maintenance is required
High consumption
Remarkable footprint of the cooling plant
Screw type
Key points

Frequent maintenance is not required
High energy efficiency
High MTBF it means good reliability

Weak points

High noise
No chance to work in case of failures
Not useful for low powers
Wind simulator
Air Removal System by Mechanical Cooling
Key points

Frequent maintenance is not required
High energy efficiency
Not contaminated air into the chamber

Weak points

Continuous defrosting is required
Remarkable footprint of the cooling plant
Air Removal System by Chemical Dryer
Key points

Compact footprint
Defrosting is not required

Weak points

Frequent maintenance is required
High energy consumption
Air contaminated by the chemical parts