HOW TO SELECT THE BEST ENVIRONMENTAL TEST CHAMBER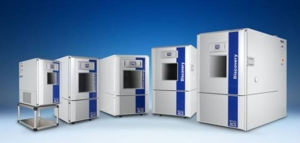 It's your job to select an environmental chamber for your company's product testing. The product must be tested at various conditions to ensure its quality and reliability before being released on to the market place. This will save your company time and money and reduce faults before your product is produced.
Where do you start?
Like most services and products these days the Internet has a vast amount of information on environmental chambers, however it is always a good idea to do your homework first because again like anything there are companies out there that do not know their products as well as they should.
Questions you should ask yourself
Price
Although this has to be an important factor when purchasing anything - cheap isn't always best. (Buy cheap pay twice)
Quality
Reliability of the product and the service you get from the company before the purchase will be an excellent benchmark to how they will take care of you after your purchase. At ETS we have new hire chambers available for you to hire prior to any purchase.
Capabilities
Make sure you know what stresses you want to put your product through, the more information you have the more able the supplier will be to match you with the best chamber.
Questions you should ask yourself
How big must the chamber be?
What is being tested?
Is it going to be air-cooled or water-cooled?
What temperature range is needed?
T & RH Chambers
The new discovery chambers have standard capacities from 16 up to 1600 litres and come in both countertop and floor standing versions.
ESS speedy Chambers
The ESS Chambers are available in two versions, according to temperature rate of change (10°C/min and 15°C/min) 20°C/min and 25°C/min are available on request.
Thermal Shock Chambers
A complete range of air-to-air and liquid-to-liquid thermal shock chambers. In vertical configuration the useful capacity ranges from 27 up to 320 litres, for larger capacity, horizontal types are available in capacities of 500 and 1000 litres.
Standardized walk-in rooms
The standardized walk-in chambers, called Wazzle, allow several choices in terms of dimensions, performances and temperature ranges up to 80°C and down to -70°C.
Custom design walk-in chamber
Prefabricated chambers can be supplied for temperature only or temperature/humidity tests and are suitable for tests on electronic modules or complete assemblies.
Vibration Chambers
Aimed at the aerospace, military, automotive and telecomm markets anyvib is a new family of climatic chambers that can be interfaced with many various types of shakers for vertical vibrations.
HALT and HASS Chambers
Accelerated testing is used to detect and correct inherent design and manufacturing flaws and to determine product reliability.
Vacuum Chambers
A complete range of vacuum tests down to 100 pascal (1mbar) or high vacuum on special request.
Thermal Vacuum Chambers
Thermal Vacuum Chambers are able to create the operating conditions (temperature and high vacuum) of whole satellites or equipment used on board of satellites.
Environmental Stress Screening (ESS)
The objective of the ESS process is to highlight during the manufacturing process time, the relatively high level of failures that can occur in the early life period of the product.
Explosion proof Chambers
Chambers in the explosion proof configuration are utilized in the types of test where it is necessary to check the correct operation of the specimen that can explode during a test.
Sun Simulation Chambers
The simulation of natural sunlight is achieved using several different methods according to the area of the spectrum it is required to test, in order to check the damage caused by differing solar radiations.
Dry corrosion test cabinet
A series of chambers for corrosion diagnostics
Sand/dust and rain chambers
Our equipment for sand and dust tests are available to reproduce all the conditions that comply with the main standards.
Calorimetric Test Stands
This equipment is mainly required for testing the efficiency and heating or cooling capacity of air conditioners in order to find the right compromise between power and size of the units.
Custom Design Chambers
A wide range of chambers offered that demonstrate the extensive knowledge of ATT on numerous technologies applied in the environmental test field.
Product in Chamber
What is in the chamber and how much? If all the details are not given to the chamber manufacturer, the resulting selection may not be best for your application. An example of this happened a few months ago, a customer told us the weight of the load but got it completely wrong, therefore the chamber found it difficult to get to the temperature needed to test the product - fortunately the customer this was discovered while the chamber was in the manufacturing stage so we were able to adjust the chamber so that it could cope with the heavier load.
There are so many things to consider when purchasing a chamber. At ETS we are happy to talk you through what chamber you may need. If you need any additional information please give Trevor Leake a call on 01992 899440 or email him on trevor.leake@ets.co.uk