25 YEARS OF ENVIRONMENTAL & TECHNICAL SERVICES LTD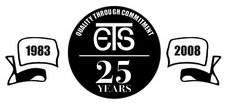 When ETS started 25 years ago, I wonder if the founder thought the Company would be the thriving success it is today. In such a specialised field how did ETS develop into the company it is today?
The inspiration
The inspiration for ETS all started in South Africa in the mid 70s when Martin Leake worked as an air-conditioning contractor in the Johannesburg mines. The miners were 10,000 feet underground in very extreme conditions, temperature & humidity at that level is +50°C and 100% humidity even with air-conditioning. It could take an hour to reach the rock face, the miners would get into an almost free-fall lift to a level underground then into an open rail cart to another lift and then the same again. While working in these conditions some of the miners were subject to heat stroke, when this happened it would take so long to get them to the surface that it could be fatal. In order to pre condition, the miners, for these adverse conditions it was decided to build an environmental chamber. The chamber would hold many people, in which under exercise the conditions could be gradually ramped up to those at the rock face. The miners would be checked at regular intervals to ensure that they were coping with the stresses. When Martin Leake came back to the UK in 1980, he recognised that there was a potential in this industry. He set about looking for the niche in the market. Soon after Environmental & Technical Services emergered.
The early years
In the early years ETS was based in Enfield Middlesex in an industrial unit 1800 sq feet. Two small offices for the MD and the Secretary. ETS developed steadily in the 80s with its main core business being service and maintenance of climatic chambers, the main customer base was the Defence sector. At this time, ETS also installed and maintained commercial Air conditioning. Many of our first Customers are still our customers today. In the latter end of the 80s early, 90s Martin Leake took a step back from ETS to concentrate on his business ventures abroad. His Son Trevor Leake took over ETS at this point.
A new managing director

Trevor Leake started working for ETS in the early 80s as a service engineer, he qualified at Willesden College of Technology as a refrigeration and air-conditioning engineer. His role within ETS changed in the early 90s where he become Managing Director. With a new Managing Director there came many changes in ETS, within an ever-changing industry. With more competition for Air conditioning ETS decided to concentrate 100% on the climatic chamber industry, ending the Air-conditioning part of the business, service and maintenance of environmental chambers being the main core of the business. Some of ETS' oldest customers remember Trevor as a service engineer they often phone up asking to speak to "Young Trevor". Luckily we know who they mean.
New challenges
In April 1997 ETS met with representatives of Angelantoni Industrie to discuss ETS taking over the UK sole distribution rights of Angelantoni Industries Environmental Test Chambers. The meeting was successful and in May 1997, the contract for the UK rights was completed during the International sales conference at ACS Headquarters in Massa Martana, Italy. The first chamber sale was made during that conference in May 1997. Now with added strengths ETS were able to offer a much more comprehensive service.
Re-location
ETS continued to flourish during the 90s, with a stable and knowledgeable team of engineers. With more refurbishments and workshop work increasing it was decided to relocate to larger premises. In 2001, ETS relocated to Nazeing in Essex to an 8600 sq foot unit. Our offices were open planned and premises were a reflection on ETS' accomplishments in the previous 20 years.
Today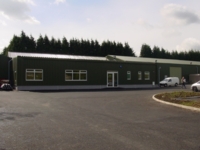 ETS' core business is still the service and maintenance of environmental chamber, in the last ten years ETS have sold over 200 ACS chambers with total sales in excess of £3,000,000.00. ETS continue to maintain an excellent working relationship with ACS enabling continuing support to existing and new customers alike. In the last few years, ETS have expanded its hire chambers with now over 40 hire chambers available. All of hire chambers can be viewed on our website along with all our products and services. ETS have renewed their fleet of service vehicles with new Volkswagen transporters. These vehicles are unique to ETS as they have been sign wrapped with the exciting images from our web site. The vehicles are stocked with the most commonly used spares which will allow our service engineers to repair a greater number of chambers during their initial visit to site. This will aid in reducing the downtime of our clients' chambers as well as reducing service costs due to the fact that no return visit is required.
And the future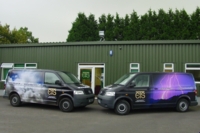 In 2008, we hope to expand our hire chamber service to be able to offer even more variety. We currently carry out in house testing for some clients we hope that this will be able to expand to accommodate our clients' needs. With a new employee starting in, 2008 we expect to receive UKAS accreditation for our compressive calibration facility. This will further enhance services we provide to our customers. Making ETS the leading Environmental Chambers Company within the UK. ETS would not be the Company it is today with out the team of managers engineers and administration staff. ETS is a team and we thank you and all our customers for our success.
If you require any information on, products, and services please do not hesitate to contact any of us.